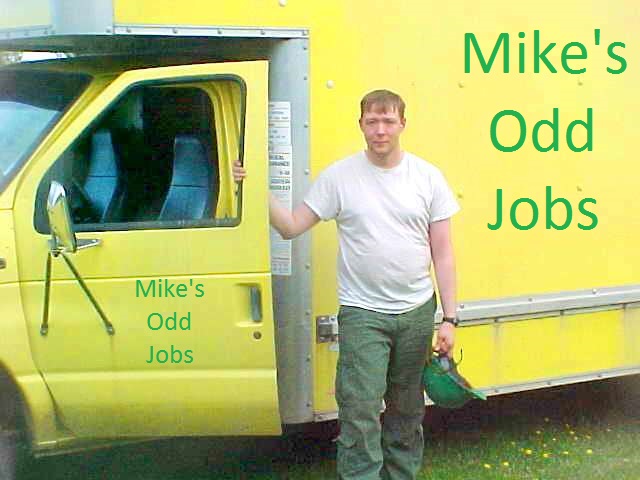 Mike's Odd Jobs LLC
1306 Main Ave
International Falls, MN 56649
Call/Text 218-242-1698
Bahrindustries@gmail.com


Open letter/estimate to:
Any Commercial Entity residing in the International Falls Zip code:
Customers who are within 20 miles 56649

Estimate for Lawn Maintenance:
Consider this our bid for Lawn Jobs.
'Hours' will refer to each 'man hour'
'us' or 'our' = Refers to "Mike's Off Jobs LLC
'you' or 'your' = refers to "the client"
Please furnish us a list of properties in which you wish mowed. [If multiple locations]
We will maintain your property as fast as possible.
Lawns will be prioritized to get your jobs done in a reasonable amount of time.
---
As spring falls upon us we look to lawn season. We ask that you will allow us to do your spring leaf clean-up. During this time we will also pick up chunks of sod/turf that the plow guy relocated with his blade, out onto your lawn.
We will do our best to keep your lawn looking nice throughout the year. At the start of the growing season, lawns are slow to grow. We recommend cutting every 10-14 days. As the season gets warmer and grass starts to grow faster, We recommend grass be cut every seven days. As fall approaches we recommend going back to 10-14 day cuts. As leaves start to fall, we ask that we are able to provide raking services.
---
All lawn work will be done at a rate of $25/hr with a two man minimum each having a 1.5 hour minimum. OR one man at a minimum of three hours. [ALL hours are rounded up to the nearest 1/4 hour, for simplicity]
The following things will be done each time we provide lawn services.
•The lawn will be cut.
•Weeds will be trimmed
• Sidewalks swept or leaf blown
---
Fallen Branches/ Leaf raking/ spring or fall clean-up/ Downed Tree clean-up/ Yard Raking/ Brush Removal /etc.
These services are also billed at $25/hr.
Disposal Fee for clippings, brush or other 'lawn matter' will be Invoiced at the rate of $10/ trailer load regardless if there is only one bag on the trailer or it is heaping full.
These items could be thrown away in your dumpster or located somewhere else of your choosing, if desired.
---
How do we figure your bill? What is billable/ considered 'work'?
• Time clock starts when we get onto the property.
• Time spent lawn mowing
• Time spent raking or bagging the lawn with a bagger. [We Prefer to mulch the lawn when possible.]
• Time to saw up Brush/ Downed Trees [if applicable]
• Load time for all lawn debris [branches/brush/trees/leaves/grass etc]
• Travel time from property to Dump. [if applicable]
• Unload time at the dump sight. [if applicable]
• Travel time back to the property [if multiple loads, or to return and load up equipment which was left behind] - if applicable
• Time that directly relates to the job - Performing the work
• Reasonable maintenance time [ex: swapping a chain on a chainsaw/ sharpening the chain]
• Time clock stops when our equipment is loaded and on the trailer, and all work that was requested of us has been completed.
---
The following time is not Invoiced:
• Major mechanical maintenance issues. [Tire blow out, engine rebuild, MAJOR issues]
• Creating the bill or Delivering of the bill. [offsight]
• Negotiations on pricing and or the actual dispatch to the premises. 'windshield time.'
• Estimates for upcoming jobs, or to pick up Job sheets [if required]
• Return trip to pick up payment.
---
Trash Hauling / Trash Cleanup
There is a two (2) man minimum required. Each man has a min of an hour and a half (1.5) hours each. [Total would be 3hr @ $25 or $75]
• Not all jobs require two man crew. If this is the case. A one (1) man at three (3) hour minimum is required.
---
All Jobs will be itemized per your standard. In absence of a standard form to fill out.. I will provide dates of work and number of hours worked. I will also list other fees that are incurred, such as dump fees/ mileage.
• Mileage fees will take effect if we have to drive over 10 Miles to the job/ or during the job.
*All hours are rounded up to nearest 1/4 hour for simplicity
---
We DO NOT move Boats, swing sets, trampolines, or other large items in the yard. Those items should be moved, prior to arrival or they will be mowed/trimmed around [not under]. There is too much liability to move them & insurance does not allow for it.
If there is excessive rocks/dirt/debris from your winter plowing, for example, that needs to be dealt with to avoid harm to our lawn equipment, expect additional time to deal with those issues to be on the bill, in order to remove that debris. Dirt will be removed with the lawn clippings, or relocated somewhere as to not cause a hazard to future lawn personnel.
---
Edging will be done upon request. Edging, If required will remain at the $25/hr rate. Also billable will be the time to remove the tailings that the edging process has created. All dirt/debris removed will be removed by trailer, and disposed of at the rate of $10 a trailer load. [disposal fee]
---
See Fee schedule for rates on Appliances/ Trash for a general estimate. HERE
Koochiching County HERE *the higher of the two dump rates will be the final fee. [County rates may jump with out notice]
Please check out our residential section for other services we provide HERE
---
Snow Removal
We would also like to maintain your grounds 'as needed' this winter.
Services are provided hourly at $25/hr. with a 1.66hr minimum. + cost of De-Icer. [If required]
The snow will be removed by means of Plow, Snow Blower and or by Shovel. We also provide services to remove snow from roofs. Generally speaking: we do not do "auto pilot' for our residential customers. That is we do not provide services merely because it snows. As a commercial customer it makes sense for you to want your snow removed at a certain depth. For Example: The Post Office needs their snow removed when there is an accumulation of an inch on the ground. If it is in our agreement, We would remove the snow to your specifications.
If salt is to be put down, it will be added to your bill. You may choose to provide salt. If you desire, we can also scrape the sidewalks off with a chipper, rather than 'just salting' these high traffic areas.

Prices Subject to change throughout the season.
If you decide to have us service your property we will need to do a walk-through before services begin.
As with our summer work; Payment is expected upon completion of work, when possible, or pre-arranged intervals.
When/if this bid is accepted, we will upon request make our insurance information available on a link for download/review
This Link will be activated when needed ----> HERE <---

If you have any questions or wish to schedule our services, my number is 218-242-1698
This bid is good for a period of for 7 days after the date issued, or until a competing bid has been accepted.
Thank you for your time in considering our offer,


See www.bahrindustries.com/winter.html for a complete list of details.
Thank you for your time in considering us as your Lawn and Snow Service Provider.
Mike Bahr
Mike Bahr,
President/CEO

• Professional • Licensed • Insured • Competitive Rates 218-283-0852
www.bahrindustries.com 218-242-1698
Our Insurance information can be verified electronically or by calling our agent, and will be made available upon request at the time the contract is awarded.
Businesses wishing to exempt themselves from state required taxes should provide us a W-9 form HERE